Blog
Now on Sale!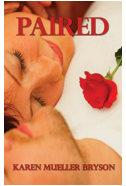 PAIRED: Two Short and Sweet Romantic Comedy Novellas are now on sale for only .99 cents.
Included in this collection are:
TWYLA'S LAST TRIP
Twenty eight-year old, Lucinda Starr is an uptight research psychologist, whose deadline to complete her doctoral dissertation is completely derailed by her estranged mother, Twyla Starr's sudden death. Lucinda must take her mother's ashes on a road trip on Route 66, in order to fulfill the requirements of her will and inherit her fortune. To make matters worse, Lucinda finds herself forced to travel across the country with her mother's easygoing country lawyer, T.J. Yates, who drives her crazy, and his drooling bloodhound, Dakota, who Lucinda finds revolting.
ONE LAST CLASS
Thirty-two year old, Zak Spencer, is a washed-up teen idol, who decides to rebuild his life by returning to college in Arizona. Trouble ensues when Zak falls in love with the young professor, Amy Campbell, who teaches the one class he needs to complete his degree.
BUY NOW LINK: http://www.amazon.com/Paired-Karen-Mueller-Bryson-ebook/dp/B00H7LE59C/