Deadly Inheritance
Tuesday, January 17, 2017
Review by
ShortonTimeBooks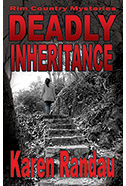 By: Karen Randau
A poisoned hotel clerk, a ruined Scotland honeymoon, and a hidden Viking burial site, Deadly Inheritance is the second book in the fast-paced Rim Country Mystery series.
Rita and Cliff are together again, this time on a long-awaited honeymoon in Scotland, where Cliff also plans to meet his grandfather for the first time. While the newlyweds check into the honeymoon suite at a luxurious Scottish hotel, the reception clerk dies after opening a note meant for Cliff. The action shifts into high gear when a mysterious woman uses the hotel clerk's car against Rita and Cliff.
The couple team up with Detective Ian MacDougal to discover who wants them dead and why. The search for answers takes them on a one-of-a-kind tour of Scotland.
Murder and a fistful of action combine to make Rita's Scottish honeymoon something she didn't envision!