The Mustard Seeds
Monday, August 26, 2013
Review by
SoTB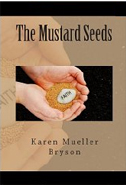 By:  Karen Mueller Bryson
The Mustard Seeds
is a Short on Time Book about faith, family and music.
After his mom's sudden death, Elliot White, a 16-year old musical savant with Asperger's Syndrome, is forced to leave his performing arts high school in New York City when he relocates to Winslow, Arizona to live with his eccentric aunt, and must attend a school with no music program.
The Mustard Seeds is a 2012 B.R.A.G.Medallion(TM) Honoree.