Where is Wonderland Anyway?
Tuesday, October 14, 2003
Review by
SoTB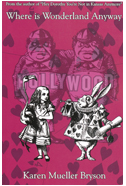 In her sharp and sassy second novel, Karen Mueller Bryson tells the story of a young woman's ascent from the trailer parks of central Florida to become one of Hollywood's hottest celebrities. Where is Wonderland Anyway is an exciting tale inspired by the beloved Alice in Wonderland. Alice Sparrow grew up in the trailer parks of central Florida and lived with an abusive boyfriend in the margins of society. When an accident makes Alice the prime suspect in her boyfriend's murder, she decides to go on the run. The young woman hitches a ride to California with a quirky magician named Lewis, who is on his way to a movie audition, and a tough runaway named Carol, who is searching for the mother who abandoned her. Through a series of unpredictable events, Alice finds herself the star of a major motion picture and one of America's most wanted criminals.