Tuesday, February 7, 2017
Review by
ShortonTimeBooks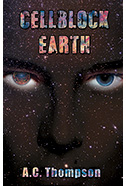 By:  A.C. Thompson
Wanted. Hunted. Trapped.
With their destiny rapidly unfolding and putting the planet in mortal danger, Victoria and Jason have not gone unnoticed. The Guards, keepers of Prison Earth, have arrived to stop the threat the population is unaware of, one that could consume the entire galaxy.
Separated and held hostage, Victoria and Jason fight to escape their captors and find each other. But they are changing.
Soon they will be more than human…
Tuesday, January 17, 2017
Review by
ShortonTimeBooks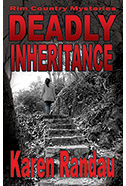 By: Karen Randau
A poisoned hotel clerk, a ruined Scotland honeymoon, and a hidden Viking burial site, Deadly Inheritance is the second book in the fast-paced Rim Country Mystery series.
Rita and Cliff are together again, this time on a long-awaited honeymoon in Scotland, where Cliff also plans to meet his grandfather for the first time. While the newlyweds check into the honeymoon suite at a luxurious Scottish hotel, the reception clerk dies after opening a note meant for Cliff. The action shifts into high gear when a mysterious woman uses the hotel clerk's car against Rita and Cliff.
The couple team up with Detective Ian MacDougal to discover who wants them dead and why. The search for answers takes them on a one-of-a-kind tour of Scotland.
Murder and a fistful of action combine to make Rita's Scottish honeymoon something she didn't envision!
Thursday, January 5, 2017
Review by
ShortonTimeBooks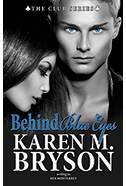 By: Karen M. Bryson
BEHIND BLUE EYES is the dark, gritty PREQUEL to the spicy, hot CLUB series, but can be read as a stand-alone novella.
Foster Brady has finally met the woman of his dreams. The only problem is that Journey Rivera is his father Mick's young mistress.
As things heat up between Foster and Journey, Mick begins to become suspicious. He threatens to kill anyone who touches Journey, and he tells Journey he'll kill her too if he ever finds out she's cheating on him.
Foster has no reason to doubt his father's word. He's always suspected that his mother never really killed herself, and that his father was responsible for her death. But who would ever suspect a police detective of foul play?
As his father's violence towards Journey intensifies, Foster vows to do whatever it takes to keep Journey safe. Even if it means killing his father to protect her.
WARNING: Due to MATURE LANGUAGE and DARK SUBJECT MATTER, BEHIND BLUE EYES is recommended for adult readers. For readers who might be triggered by sensitive subject matter, this book contains scenes with extreme, graphic violence.