Equalizer
Sunday, May 8, 2016
Review by
SoTB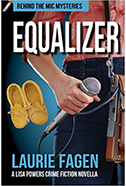 By: Laurie Fagen
Ambitious and impulsive.
Young radio reporter Lisa Powers has a nose for news, but sometimes makes reckless decisions when it comes to covering the crime beat.
Lisa reports on a shocking homicide that halts a white-collar money-laundering trial, but finds herself facing down the killer. She hunts for the murderer of a Jane Doe found in the desert decades ago that may have something to do with a Native American moccasin maker.
There's a smell of death in her "Haunted Hallows" mystery theatre podcast, leading to yet another mystery to be solved.
Equalizer is an action-packed novella and prequel to Laurie Fagen's debut crime fiction novel, Fade Out.