Yellow Dog Blues (Part Two)
Saturday, December 19, 2015
Review by
SoTB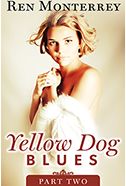 By:  Ren Monterrey
They both joined The Club and made an arrangement. She got the money to pay her overdue bills and he got access to her body, whenever and however he wanted it…
After being dumped by her boyfriend of six years, Lyric Johnson has no way to pay her bills. She's been trying to find a job for months, but no one seems interested in hiring a recent graduate of a creative writing program. When Lyric's neighbor tells her about THE CLUB, selling her body seems to be her only option.
Seven years ago recording artist, Maverick, had one of the biggest-selling singles of all time. When his second album failed to gain any traction and his personal life fell apart he disappeared into obscurity.
Now on the advice of his manager Maverick has joined THE CLUB and he's chosen Lyric for an arrangement.
THIS IS PART TWO of the YELLOW DOG BLUES SERIAL NOVEL, which unfolds in TWO PARTS (of approximately 90 pages each). Readers should begin with PART ONE and read the novel in sequence.
Each novel in Ren Monterrey's The Club series can be read as a stand-alone or as part of the series. The Club series includes:
Black Dog Nights (three-part serial novel)
Sapphire Beautiful (stand-alone full-length novel)
Mad Dog Days (three-part serial novel)
Gold Dust Woman (stand-alone full-length novel)
Yellow Dog Blues (two-part serial novel)
Grey Cloudy Lies (stand-alone full-length novel)