Mad Dog Days (Part One)
Tuesday, October 13, 2015
Review by
SoTB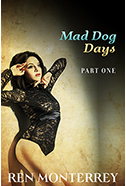 By:  Ren Monterrey
I quit my dead end job in retail and made an arrangement through The Club. I'll get what I need…money to pay my rent. And he'll get what he wants…access to my body…whenever and however he wants it…
There's only one catch. Harlan "Mad Dog" Murphy wants an exclusive arrangement and I want to sleep with my roommate, Joey "Rocky" Rocco… the guy I've been in love with forever…the guy who is still in love with my best friend.
MAD DOG DAYS is a SERIAL NOVEL, which unfolds in THREE PARTS (approximately 50 pages each). EACH PART has a CLIFFHANGER and is AVAILABLE NOW.
Each novel in The Club series can be read as a stand-alone or as part of the series.
The Club series includes:
Black Dog Nights (three-part serial novel)
Sapphire Beautiful (stand-alone full-length novel)
Mad Dog Days (three-part serial novel)
Gold Dust Woman (stand-alone full-length novel)
Yellow Dog Blues (two-part serial novel)
Grey Cloudy Lies (stand-alone full-length novel)