Sometimes Brooke
Friday, June 5, 2015
Review by
SoTB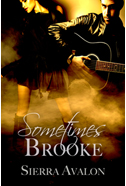 By:  Sierra Avalon
Getting out of rehab is supposed to be a new beginning, but for Brooke Rhodes it's more about endings. After her dad fires her from the only job she's ever had managing his smoothie shop, Brooke finds her college degree in American Studies isn't useful in gaining any serious prospects for employment. When she's forced to give up her apartment and her parents refuse to take her in Brooke has only one place to go.
She moves to Scottsdale, Arizona to live with her best friend, Harper Leigh, and Harper's rock star boyfriend and his bandmates. Living with a rock band isn't exactly what the doctor ordered for staying clean and sober. And it doesn't help that the band's guitar player, Leo Donovan, wants a repeat performance of the one-night stand they had months ago. But staying straight will mean staying as far away from the band as possible and keeping Leo out of her life.
SOMETIMES BROOKE is the second novel in the ALWAYS SOMETIMES NEVER New Adult Rock Star Romance Series. SOMETIMES BROOKE can be read as a standalone novel or as part of the series.