Black Dog Nights: Part One
Thursday, July 31, 2014
Review by
SoTB
Short on Time Books is proud to bring you the first release from an exciting new author!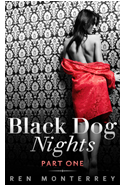 By:  Ren Monterrey
My student loans are due and I still haven't found a job that pays more than minimum wage. So I decide to make an arrangement through The Club. I'll get what I need…money to pay my loans. And he'll get what he wants…access to my body…whenever and however he wants it.
Rose Collins is a recent art school graduate with overwhelming student loan debt and no way to pay it.
Jae Rothko is a wealthy and renowned artist who doesn't have the time or patience for a relationship.
Jae joins The Club so he can have one woman when he wants and how he wants with no attachments and no expectations.
He selects Rose to be that woman.