A Wilde Night
Wednesday, August 27, 2014
Review by
SoTB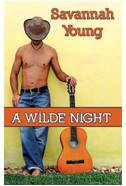 By: Savannah Young
FOUR WILDE BROTHERS…ONE WILDE COUNTRY BAND
She's an award-winning winning actress and he's an average guy just trying to get by…
Fresh out of police officer training, newbie cop, Hunter Wilde, takes an off-duty gig working special events at the Tawnee Mountain Resort to earn a little extra cash to supplement his public servant's salary.
Katie Lawrence is Hollywood's hottest sweetheart. With her second Oscar win before the age of twenty-five she's all Tinseltown is talking about.
A WILDE NIGHT is the third novel in the spicy contemporary romance series about four sexy brothers, their small-town bar and their local country band. Due to mature content, A WILDE NIGHT is recommended for readers aged 18+.
A WILDE NIGHT is the third book in the OLD TOWN COUNTRY ROMANCE series. It can be read as a stand alone novel or as part of the series.