The Great Big War
Thursday, July 31, 2014
Review by
SoTB
Short on Time Books is proud to bring you the first release from an exciting new author!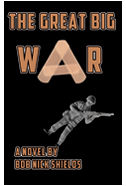 By:  Bob Nick Shields
The war happened, but only Bobby Booclear remembers it.
It lasted less than a day but, in less than six hours, an eleven-year-old boy became a war criminal. In Westchester County, New York.
It's that kind of story. And Bobby is, finally, telling his version of what happened on that day, in 1954.
In a rousing tale filled with cap guns, spin-the-bottle, flavored ice cubes, water bombs, fireworks and more hammy death scenes than your parents would ever let you watch, when you were little, first-time author Bob Nick Shields re-creates a long-ago summer
and the thrill of innocence in a funny and touching fictional account of what it was like to be a kid before every family had a television.