Final Play
Saturday, August 17, 2013
Review by
SoTB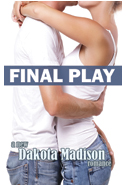 By:  Dakota Madison
A Guy, a Girl and the Deviled Egg they both want…
Straight-laced newbie engineer Lucas Young wasn't looking for love when he attended his friend, Rainy Dey's wedding reception. But what he did want was one of the delicious looking deviled eggs that were prominently displayed on the hors d'oeuvres table. Unfortunately, the delectable treat was practically stolen out of his hand by…
Ella Warner, groomsman Evan Warner's "crazy" younger sister and the black sheep of their well-to-do family. Ella does everything on her own terms, including snatching a yummy deviled egg from Lucas's rather hungry clutches.
But it's going to take a lot more than the perfect deviled egg to keep this completely mismatched couple from going completely off the rails as they negotiate an increasingly complicated relationship.
Opposites may attract but can they actually find true love with each other?
This NEW ADULT ROMANCE contains language and content indented for adult readers (18+).