Archive for July, 2015
Friday, July 17, 2015
Review by
SoTB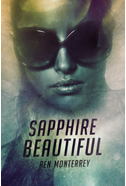 By:  Ren Monterrey
We both joined The Club and made an arrangement. I got the money to pay my mortgage and he got access to my body, whenever and however he wanted it…
SAPPHIRE BEAUTIFUL is a full-length, stand-alone novel in THE CLUB series.
I never imagined that I'd be starting my fifth year as a faculty member in the Medieval Studies department as a thirty-two-year-old widow. I'm sure to be the butt of every joke around campus as the collateral damage of a sex scandal that made national headlines. And my husband left me completely broke after he killed himself.
I don't want to lose my house and all the money I invested in it so I make an arrangement through The Club. I'll get what I need…money to get out of the financial ruins my dead husband left me in. And Dante McNally will get what he wants…access to my body…whenever and however he wants it…
There's only one catch. Dante is one of our new graduate students and the recipient of a prestigious research fellowship funded by his billionaire father. And this is the year I'm supposed to be applying for tenure.
Each novel in Ren Monterrey's The Club series can be read as a stand-alone or as part of the series. The Club series includes:
Black Dog Nights (three-part serial novel)
Sapphire Beautiful (stand-alone full-length novel)
Mad Dog Days (three-part serial novel)
Gold Dust Woman (stand-alone full-length novel)
Yellow Dog Blues (two-part serial novel)
Grey Cloudy Lies (stand-alone full-length novel)
Thursday, July 16, 2015
Review by
SoTB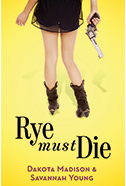 By:  Dakota Madison & Savannah Young
There's a fine line between sexy alpha and creepy stalker…and Rye has crossed it.
Izzy Grant is supposed to be dead, suicide by hanging. But when she regains consciousness she's still alive and still the crazy girl everyone in Old Town loves to hate.
But one thing had changed. He saved her life, a shadowy figure wearing all black and riding a motorcycle.
Now he's following Izzy. She doesn't know why, but she's eager to find out.
When charming ghost hunter, Max Elliot, barges into Izzy's life she isn't looking for love…except in the biker romance novels she's obsessed with. But when Rye's behavior takes on new and violent dimensions, Izzy and Max struggle to find a way to stop him before his violence against Izzy escalates.
Maybe the only solution is for Rye to die.
RYE MUST DIE is a NOVELLA by USA TODAY BESTSELLING AUTHOR Dakota Madison and AMAZON BESTSELLING AUTHOR Savannah Young. It can be read as a STANDALONE or as part of the ongoing series.