Archive for January, 2014
Wednesday, January 22, 2014
Review by
ShortonTimeBooks
Short on Time Books is proud to bring you the first release from an exciting new author!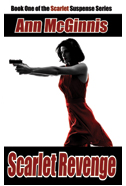 By: Ann McGinnis
The FBI doesn't know what to do with Analyst Caycee Scarlet. She's brash, brilliant & brutally relentless when tracking a serial killer. But she also has a temper, problems with authority figures and recognizing the chain of command.
Things go sideways for Caycee when she uncovers a lead that saves the Omega Killer's latest victim. Rather than working the system and making nice with her pompous boss, sparks fly and she gets into an altercation with the lead Special Agent on the case, resulting in a transfer to another assignment.
Caycee finds herself transferred to an FBI interrogation facility where she assesses the most dangerous of criminals in custody. She struggles to get over the loss of her dream job, but her new boss, handsome Special Agent Gil Graham, may soften the blow. Sparks, of a different variety, fly between the Special Agent and his new Analyst, as they work together to crack the most difficult cases.
Just when Caycee's wounds are healing from her expulsion on the Omega Killer team, she is dragged back into the thick of it. Caycee and her new team are front and center, focused on an interview of a bombing suspect, when Omega comes looking for revenge. His attack wounds her team, leaving Caycee with only one option for help—the devastatingly handsome bombing suspect. It will take all of Caycee's wits, and a kiss for luck, to stop Omega and save her co-workers.
Wednesday, January 22, 2014
Review by
ShortonTimeBooks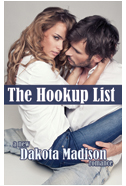 By: Dakota Madison
A FRESHMAN, HER ROOMMATE, A GUY and A LIST…
THE FRESHMAN: Ana Alves came to college for one reason–to be the first person in her immigrant family to earn a degree. She doesn't want anything to derail her from her pre-med studies, especially a guy.
HER ROOMMATE: Nicki Payne is ready to party and she doesn't waste any time hooking up with a guy in a frat house bathroom. Her motto: College is a time to be young, wild and free.
A GUY: Christopher Knight is the easy-going English major with a sexy smile and killer body who sits next to Ana in her Shakespeare class. Ana finds Christopher intriguing. She just doesn't want to admit that she's falling for him.
THE HOOKUP LIST: A list of freshman girls who are ready for action that's circulated to the freshman guys via a weekly Listserv. When Nicki Payne is one of the first girls featured on The Hookup List, guys start knocking on her dorm door at all hours of the day and night looking to score…
But what happens when one of those guys is Christopher?