Archive for July, 2013
Monday, July 22, 2013
Review by
SoTB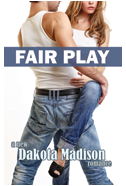 By:  Dak0ta Madison
The Good-Girl, the Bad-Girl and the Boy They Both Want…FAIR PLAY begins where the New Adult romance MATCHPLAY left off.
Bad girls need love, too…
Keira Whitley is used to getting what she wants and what she wants is the sexy-and-smart, Aaron Donovan. They're both from extremely wealthy and prominent families and their parents have talked about getting the two of them together since they were kids.
The only problem is that Aaron recently got engaged to the girl of his dreams, Rainy Dey.
But Keira knows she and Aaron are supposed to be together and she's not about to let a little thing like Aaron's declaration of true love for Rainy get in her way.
But is all really fair in love and war?
WARNING: This book is told from the perspective of Keira Whitley, a villainous Queen of Mean. If you're looking for a story told from the point of view of a sweet Mary-Sue virgin, this book is NOT FOR YOU. Go read Fifty Shades of Grey again. And if you decide to read this book anyway, DON'T say I didn't warn you.
This NEW ADULT ROMANCE contains language and content indented for adult readers (18+).
Tuesday, July 16, 2013
Review by
SoTB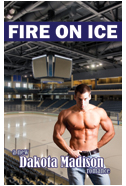 By: Dak0ta Madison
He's Fire on Ice and she's afraid to get burned again…
"You always think a guy is going to be different until he's not."
Firestorm Center Kian Kavanagh dominates the ice like a rock star dominates the stage. He's the hottest new player to be recruited for the Firestorm, a newly established professional hockey team in Northern Arizona.
After Taylor Thompson's heart was completely shattered by her high school's most popular jock, she vowed never to date another athlete. And she keeps that promise through her first three years of college by putting up impenetrable walls to protect her from heartbreak.
But after a chance meeting with the charming and irresistible Kian Kavanagh, Taylor's carefully constructed walls are in serious danger of being burned down by Mr. Fire on Ice.
Saturday, July 6, 2013
Review by
SoTB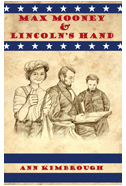 By: Ann Kimbrough
Never trust a future President!
Twelve-year-old Max Mooney is a sculpture's apprentice in the 1860's. His boss is working on a statue of Abraham Lincoln. When Max breaks one of the hands, he hides his mistake and decides to replace it before anyone notices. All he has to do is find Mr. Lincoln and re-cast his hand. Unfortunately, Max finds Mr. Lincoln on the day he's been elected to run for President. Half the city is at his house celebrating. The only way Max can privately talk to Lincoln is with the help of his young sons, Willie & Tad, but they may be harder to trust than a future President!