Archive for the 'Suspense' Category
Monday, October 19, 2015
Review by
SoTB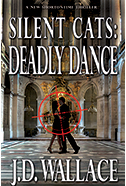 By:  J.D. Wallace
"For women readers, this is a romantic international spy novel; for men, it's an international spy novel with romance – all wrapped up in a true life historical thriller written with Dan Brown flare."
First in the SILENT CATS series, JD Wallace's Deadly Dance spins the mind-bending, genre-blurring fictionalized true story based on the life of Kat, the youngest Kidon Katsa Assassin in the history of Mossad, and her husband, Pantera, the fabled Chief Black Site Interrogator, who worked under such special access programs as the Operation Copper Green (created under Donald Rumsfeld), the United Nations Security Council – Special Operations Group (UN-SOG), and Task Forces 88 and 121.
Reaching back to 1989, Kat and Pantera meet in the City of Seven Hills, beautiful Rome, Italy, at a U.S. Embassy New Year's Eve ball, kicking off their 16-year relationship in the onion-layered world of covert operatives, spy hunters, slave traders, and sovereign-paid intelligence peddlers. Of necessity, their encounters are beset by lies wrapped in half-truths, concealed in shadowy realities. Kat and Pantera maneuver through action-packed covert operations, romantic encounters, torture, and acrobatic combat, all while coming to grips about who they're hunting and who is hunting them. How did they overcome all this and stay married?
Sunday, April 19, 2015
Review by
SoTB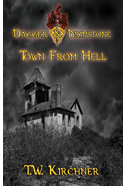 By: T.W. Kirchner
Seventeen-year-old Racer and his girlfriend Arloe want to be together despite resistance from her parents. In defiance of an upcoming separation, they run away for the summer, going totally off the grid to a remote town in the Nevada desert. The teens think no one knows where they are—but they couldn't be more wrong. Racer's well-orchestrated plan for freedom turns into a nightmare from hell. Lies, deception and betrayal blur his lines of reality, and he discovers everyone in town is hiding a terrifying secret, including Arloe.
Sunday, April 12, 2015
Review by
SoTB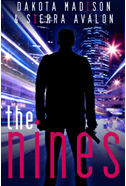 By:  Dakota Madison & Sierra Avalon
At a prestigious university members of a secret fraternity known for gang rapes believe they can get away with murder…only THE NINES can stop them.Vengeance is mine not the Lord's. It's what I breathe for. It's what I'm still living for. I live for the moment when I will literally have his eye for mine. It's been two years. Two long and difficult years, but my plan is nearly complete. When I'm not in a hospital having doctors try to repair my ravaged body I spend my time on the computer, doing hacking jobs for large corporations and governments who don't want to get their hands dirty or be associated with a job if things go sideways. But they don't have any reason to worry. I'm meticulous, so I'll never get caught. Just one thing stands in my way: The mysterious young woman without a past who desperately wants to be part of my future. I just need to figure out why…
Monday, December 29, 2014
Review by
SoTB
By:  Ann McGinnis
FBI Analyst Caycee Scarlet is back on the trail of another ruthless serial killer, and doing it the wrong way – her way.
Bombing suspect Carl Hicks continues to evade the FBI, but his interest in Caycee heats up. He sends her a love letter, prompting the FBI to place her into protective custody and use an agent as a double to draw Hicks out. The bomber isn't fooled.
Hating being sidelined, Caycee realizes Hicks may not be a threat when he finds her safe house and reveals his ulterior motive. He's on a mission – to save Caycee from his dangerous ex-wife Siobhan – who is killing her bloodline to eliminate the Killer Gene. Unbeknownst to everyone but Siobhan's twisted mind, Caycee holds the key to finding the source of the gene. And the source has a deadly legacy – it's the notorious Zodiac Killer.
The clever FBI Analyst wants back in the game but her boss, and lover, Agent Gil Graham, is reluctant to expose her to the evil of two serial killers. After all, Caycee's an analyst not an agent! It causes her to rely more on Hicks, and question which man is her true soul mate – the protector or the trickster? The answer lies somewhere along the trail of iconic 40-year-old murders, and Caycee's ability to uncover the truth. If she fails, she'll be the Zodiac Killer's latest victim.
Wednesday, January 22, 2014
Review by
ShortonTimeBooks
Short on Time Books is proud to bring you the first release from an exciting new author!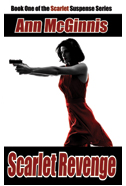 By: Ann McGinnis
The FBI doesn't know what to do with Analyst Caycee Scarlet. She's brash, brilliant & brutally relentless when tracking a serial killer. But she also has a temper, problems with authority figures and recognizing the chain of command.
Things go sideways for Caycee when she uncovers a lead that saves the Omega Killer's latest victim. Rather than working the system and making nice with her pompous boss, sparks fly and she gets into an altercation with the lead Special Agent on the case, resulting in a transfer to another assignment.
Caycee finds herself transferred to an FBI interrogation facility where she assesses the most dangerous of criminals in custody. She struggles to get over the loss of her dream job, but her new boss, handsome Special Agent Gil Graham, may soften the blow. Sparks, of a different variety, fly between the Special Agent and his new Analyst, as they work together to crack the most difficult cases.
Just when Caycee's wounds are healing from her expulsion on the Omega Killer team, she is dragged back into the thick of it. Caycee and her new team are front and center, focused on an interview of a bombing suspect, when Omega comes looking for revenge. His attack wounds her team, leaving Caycee with only one option for help—the devastatingly handsome bombing suspect. It will take all of Caycee's wits, and a kiss for luck, to stop Omega and save her co-workers.