Archive for the 'Suspense' Category
Monday, October 19, 2015
Review by
SoTB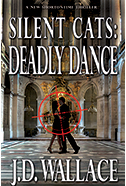 By:  J.D. Wallace
"For women readers, this is a romantic international spy novel; for men, it's an international spy novel with romance – all wrapped up in a true life historical thriller written with Dan Brown flare."
First in the SILENT CATS series, JD Wallace's Deadly Dance spins the mind-bending, genre-blurring fictionalized true story based on the life of Kat, the youngest Kidon Katsa Assassin in the history of Mossad, and her husband, Pantera, the fabled Chief Black Site Interrogator, who worked under such special access programs as the Operation Copper Green (created under Donald Rumsfeld), the United Nations Security Council – Special Operations Group (UN-SOG), and Task Forces 88 and 121.
Reaching back to 1989, Kat and Pantera meet in the City of Seven Hills, beautiful Rome, Italy, at a U.S. Embassy New Year's Eve ball, kicking off their 16-year relationship in the onion-layered world of covert operatives, spy hunters, slave traders, and sovereign-paid intelligence peddlers. Of necessity, their encounters are beset by lies wrapped in half-truths, concealed in shadowy realities. Kat and Pantera maneuver through action-packed covert operations, romantic encounters, torture, and acrobatic combat, all while coming to grips about who they're hunting and who is hunting them. How did they overcome all this and stay married?
Sunday, April 19, 2015
Review by
SoTB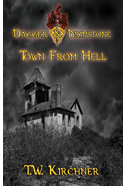 By: T.W. Kirchner
Seventeen-year-old Racer and his girlfriend Arloe want to be together despite resistance from her parents. In defiance of an upcoming separation, they run away for the summer, going totally off the grid to a remote town in the Nevada desert. The teens think no one knows where they are—but they couldn't be more wrong. Racer's well-orchestrated plan for freedom turns into a nightmare from hell. Lies, deception and betrayal blur his lines of reality, and he discovers everyone in town is hiding a terrifying secret, including Arloe.
Sunday, April 12, 2015
Review by
SoTB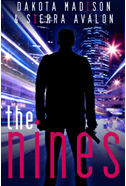 By:  Dakota Madison & Sierra Avalon
At a prestigious university members of a secret fraternity known for gang rapes believe they can get away with murder…only THE NINES can stop them.Vengeance is mine not the Lord's. It's what I breathe for. It's what I'm still living for. I live for the moment when I will literally have his eye for mine. It's been two years. Two long and difficult years, but my plan is nearly complete. When I'm not in a hospital having doctors try to repair my ravaged body I spend my time on the computer, doing hacking jobs for large corporations and governments who don't want to get their hands dirty or be associated with a job if things go sideways. But they don't have any reason to worry. I'm meticulous, so I'll never get caught. Just one thing stands in my way: The mysterious young woman without a past who desperately wants to be part of my future. I just need to figure out why…