Archive for the 'Romance' Category
Thursday, January 5, 2017
Review by
ShortonTimeBooks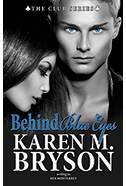 By: Karen M. Bryson
BEHIND BLUE EYES is the dark, gritty PREQUEL to the spicy, hot CLUB series, but can be read as a stand-alone novella.
Foster Brady has finally met the woman of his dreams. The only problem is that Journey Rivera is his father Mick's young mistress.
As things heat up between Foster and Journey, Mick begins to become suspicious. He threatens to kill anyone who touches Journey, and he tells Journey he'll kill her too if he ever finds out she's cheating on him.
Foster has no reason to doubt his father's word. He's always suspected that his mother never really killed herself, and that his father was responsible for her death. But who would ever suspect a police detective of foul play?
As his father's violence towards Journey intensifies, Foster vows to do whatever it takes to keep Journey safe. Even if it means killing his father to protect her.
WARNING: Due to MATURE LANGUAGE and DARK SUBJECT MATTER, BEHIND BLUE EYES is recommended for adult readers. For readers who might be triggered by sensitive subject matter, this book contains scenes with extreme, graphic violence.
Thursday, January 5, 2017
Review by
ShortonTimeBooks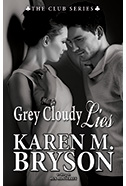 By: Karen M. Bryson
What's a girl supposed to do when she gets pregnant and the father of the child doesn't want anything to do with the baby? How about seducing the nerdy next door neighbor and making him believe the baby is his?
Cecilia Moreaux's job isn't exactly legal. She works for her aunt, Claudia, who owns The Club. They facilitate arrangements for wealthy men who want all of the benefits of having a mistress without any of the hassles of an actual relationship.
When Cecilia becomes pregnant, and the much older baby daddy wants nothing to do with their child, she doesn't know what to do. She won't be able to work at The Club once her aunt discovers she's expecting, and the only other job she's ever held was modeling in her teens and early twenties.So Cecilia devises a plan to seduce her nerdy next door neighbor with the intention of making him believe the baby is his.What Cecilia doesn't know is that her neighbor has a secret that could cost her and Claudia their freedom.
GREY CLOUDY LIES is the final novella in the spicy, hot CLUB series. It can be read as a stand-alone or as part of the series.
Saturday, December 10, 2016
Review by
ShortonTimeBooks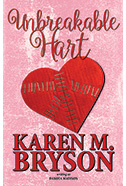 By: Karen M. Bryson
Alexander Hart's gorgeous young wife, Stephanie, loves his platinum credit cards more than she loves Alex. She loves his credit cards so much she's already maxed most of them out.
It doesn't take Alex long to realize he made a big mistake when he dumped Amelia, his wife of twenty years, for a much younger woman.
When he leaves Stephanie after less than a year of marriage, Alex vows to do whatever it takes to win Amelia back. But earning a second chance with Amelia won't be that easy.
She's moved across the country to start a new life, which now includes a relationship with a sexy young athlete. And there's Amelia's utter hatred of Alex, and the fact that she's vowed never speak to him again. Even if he was the last man on the planet.
It's going to take a lot more than Alex's good looks and irresistible charm to heal Amelia's broken heart.
UNBREAKABLE HART is a love in midlife, second chance romance.