Archive for the 'Romance' Category
Saturday, May 6, 2017
Review by
ShortonTimeBooks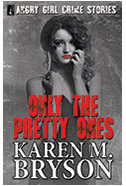 By: Karen M. Bryson
Maxie Ford's sister, Ella, has vanished.
When the police refuse to investigate, Maxie decides to take the law into her own hands.  With the help of a drug dealer, "Mickey Finn" Donovan, Maxie dives into the seedy underworld of the city in search of Ella.  What she discovers is a trafficking ring that abducts college girls for wealthy and high-powered men, and a legal system that is so corrupt no one is willing to stop them.ANGRY GIRL CRIME STORIES is a series interconnecting dark romantic crime novels. Each story can be read as a standalone novel, or as part of the series.
Thursday, January 5, 2017
Review by
ShortonTimeBooks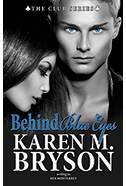 By: Karen M. Bryson
BEHIND BLUE EYES is the dark, gritty PREQUEL to the spicy, hot CLUB series, but can be read as a stand-alone novella.
Foster Brady has finally met the woman of his dreams. The only problem is that Journey Rivera is his father Mick's young mistress.
As things heat up between Foster and Journey, Mick begins to become suspicious. He threatens to kill anyone who touches Journey, and he tells Journey he'll kill her too if he ever finds out she's cheating on him.
Foster has no reason to doubt his father's word. He's always suspected that his mother never really killed herself, and that his father was responsible for her death. But who would ever suspect a police detective of foul play?
As his father's violence towards Journey intensifies, Foster vows to do whatever it takes to keep Journey safe. Even if it means killing his father to protect her.
WARNING: Due to MATURE LANGUAGE and DARK SUBJECT MATTER, BEHIND BLUE EYES is recommended for adult readers. For readers who might be triggered by sensitive subject matter, this book contains scenes with extreme, graphic violence.
Thursday, January 5, 2017
Review by
ShortonTimeBooks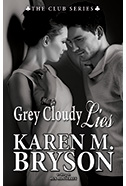 By: Karen M. Bryson
What's a girl supposed to do when she gets pregnant and the father of the child doesn't want anything to do with the baby? How about seducing the nerdy next door neighbor and making him believe the baby is his?
Cecilia Moreaux's job isn't exactly legal. She works for her aunt, Claudia, who owns The Club. They facilitate arrangements for wealthy men who want all of the benefits of having a mistress without any of the hassles of an actual relationship.
When Cecilia becomes pregnant, and the much older baby daddy wants nothing to do with their child, she doesn't know what to do. She won't be able to work at The Club once her aunt discovers she's expecting, and the only other job she's ever held was modeling in her teens and early twenties.So Cecilia devises a plan to seduce her nerdy next door neighbor with the intention of making him believe the baby is his.What Cecilia doesn't know is that her neighbor has a secret that could cost her and Claudia their freedom.
GREY CLOUDY LIES is the final novella in the spicy, hot CLUB series. It can be read as a stand-alone or as part of the series.
Saturday, December 10, 2016
Review by
ShortonTimeBooks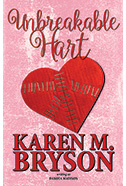 By: Karen M. Bryson
Alexander Hart's gorgeous young wife, Stephanie, loves his platinum credit cards more than she loves Alex. She loves his credit cards so much she's already maxed most of them out.
It doesn't take Alex long to realize he made a big mistake when he dumped Amelia, his wife of twenty years, for a much younger woman.
When he leaves Stephanie after less than a year of marriage, Alex vows to do whatever it takes to win Amelia back. But earning a second chance with Amelia won't be that easy.
She's moved across the country to start a new life, which now includes a relationship with a sexy young athlete. And there's Amelia's utter hatred of Alex, and the fact that she's vowed never speak to him again. Even if he was the last man on the planet.
It's going to take a lot more than Alex's good looks and irresistible charm to heal Amelia's broken heart.
UNBREAKABLE HART is a love in midlife, second chance romance.
Wednesday, August 3, 2016
Review by
ShortonTimeBooks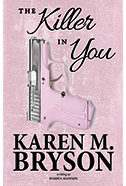 By: Karen M. Bryson
Mia Corrado can't remember that last time she had sex with her husband, Nicky. He's been preoccupied with his job as the head of New Jersey's most powerful crime family and all of the wild oats he sews on the side.
When Nicky tells Mia he's too busy to attend her college reunion, and wants to send one of his underlings to accompany her, Mia is completely fed up.
Until she discovers it is Luka Russo who will be escorting her. He's handsome, charming and sensitive, definitely not the typical mobster.
Mia is completely captivated by him.
And Luka is just as smitten with Mia.
But if they act on their feelings for each other Luka may end up sleeping with the fishes.
Thursday, June 16, 2016
Review by
SoTB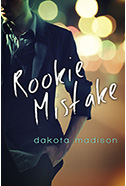 By: Dakota Madison
When a police recruit reports for duty he discovers his wild one-night stand from the previous weekend is his new field training officer.
ROOKIE MISTAKE is a romantic comedy novella by USA TODAY BESTSELLING AUTHOR Dakota Madison.
After serving seven years as a police officer in a small beach community is Southern California, Maya Navarro feels like she's finally been accepted by her peers. Now as a newly appointed Field Training Officer she can finally make her mark.
Returning to California after serving two tours of duty in Iraq, Cody Jackson makes the decision to become a police officer. He graduated from the Academy with flying colors and just has to make it through his field training to become a full-fledged member of the force.
Maya and Cody are both nursing broken hearts when their best friends push them into a one-night stand with each other. Even though their wild night together is the hottest sex either one of them has ever had they part ways believing they will never see each other again.
Until Cody reports for his first day of field training and discovers that Maya is his supervisor. Maya would rather die than admit to her sergeant the reason she can't oversee Cody's training. So she's stuck with him for ten weeks of very close and personal contact on a daily basis. As things heat up between them they need to remain strictly professional, or risk ruining their careers.
WARNING: This book contains foul language, sexual innuendo and a little bit of hanky-panky. Buyer beware.
CALIFORNIA DREAMERS is a series of interconnecting romantic comedy stories that can be read as STAND ALONE NOVELLAS or as part of the SERIES.
The CALIFORNIA DREAMERS SERIES:
(Not So) Good in a Room (Nellie's Story)
So Far Away (Maddie's Story)
Beautiful Abyss (Chris's Story)
Rookie Mistake (Cody & Maya's Story)