Archive for the 'Women's Contemporary Fiction' Category
Monday, January 28, 2013
Review by
SoTB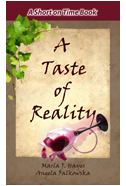 By: Marla J. Hayes and Angela Falkowska
When fairy tales do come true…
To young Terri Fortier, life in a castle in the south of France seems like a fairytale — until she learns the awful truth. On her eighteenth birthday, she flees from the marriage her parents have arranged for her in hopes of saving their vineyard from an age-old curse. Terri makes her way to the Napa Valley and a forgotten, magical vineyard where she puts down new roots. But can Terri totally escape her destiny when reality proves to be more powerful than any fairytale?
Thursday, December 6, 2012
Review by
SoTB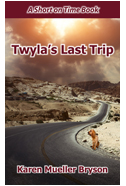 The romantic comedy, Twyla's Last Trip, is the first in the Short On Time Books series: fast-paced and fun novels for readers on the go.
Twenty eight-year old, Lucinda Starr is an uptight research psychologist, whose deadline to complete her doctoral dissertation is completely derailed by her estranged mother, Twyla Starr's sudden death. Lucinda must take her mother's ashes on a road trip on Route 66, in order to fulfill the requirements of her will and inherit her fortune. To make matters worse, Lucinda finds herself forced to travel across the country with her mother's easygoing country lawyer, T.J. Yates, who drives her crazy, and his drooling bloodhound, Dakota, who Lucinda finds revolting.
Tuesday, October 14, 2003
Review by
SoTB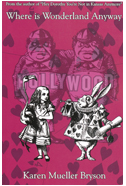 In her sharp and sassy second novel, Karen Mueller Bryson tells the story of a young woman's ascent from the trailer parks of central Florida to become one of Hollywood's hottest celebrities. Where is Wonderland Anyway is an exciting tale inspired by the beloved Alice in Wonderland. Alice Sparrow grew up in the trailer parks of central Florida and lived with an abusive boyfriend in the margins of society. When an accident makes Alice the prime suspect in her boyfriend's murder, she decides to go on the run. The young woman hitches a ride to California with a quirky magician named Lewis, who is on his way to a movie audition, and a tough runaway named Carol, who is searching for the mother who abandoned her. Through a series of unpredictable events, Alice finds herself the star of a major motion picture and one of America's most wanted criminals.
Thursday, December 6, 2001
Review by
SoTB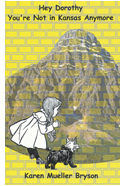 In this fast-paced and funny first novel, Karen Mueller Bryson tells the story of a young woman's wild journey coming to terms with her father's sudden death. Hey Dorothy You're Not in Kansas Anymore is a delightful and engaging tale reminiscent of The Wizard of Oz.
Dorothy Gale Robinson, an aspiring actress, is the daughter of hippie parents with a passion for old movies. When her father is killed suddenly while sipping a non-fat decaf mocha latte at a local coffee shop, Dorothy's life is turned upside down. After an unconventional dispersing of her father's ashes at the Universal Studios Psycho House, Dorothy's mother decides to sell all her worldly possessions and join a New Age cult headquartered in Banff, Canada. Of course, Dorothy's twin brother, Jude, is too busy with his law firm to help Dorothy save their mother from the clutches of the sinister cult, so she seeks the aid of her new boyfriend, Lahrs, and a cult-buster, Mervyn O'Roy, who just happens to look like Mickey Rooney. The motley trio venture from Florida to Banff, in search of Dorothy's mother and a little romance in the Canadian Rockies.