Archive for the 'Young Adult' Category
Wednesday, April 29, 2015
Review by
SoTB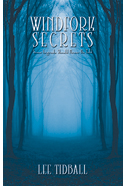 By:  Lee Tidball
6th Grader Diona McBride just wanted an A+ on a school report—and had to interview a "little old lady" to get it. But Nessy Scanlon's not your average "little old lady," and her stories are no addle-minded snoozers. Together the two actually re-write their small town's history, shattering commonly-held "truths" about some of its most notorious incidents, and exploding the mystery of its infamous, creepy "bogeyman" legends.
Sunday, April 19, 2015
Review by
SoTB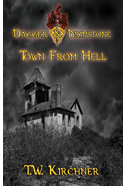 By: T.W. Kirchner
Seventeen-year-old Racer and his girlfriend Arloe want to be together despite resistance from her parents. In defiance of an upcoming separation, they run away for the summer, going totally off the grid to a remote town in the Nevada desert. The teens think no one knows where they are—but they couldn't be more wrong. Racer's well-orchestrated plan for freedom turns into a nightmare from hell. Lies, deception and betrayal blur his lines of reality, and he discovers everyone in town is hiding a terrifying secret, including Arloe.
Monday, October 28, 2013
Review by
SoTB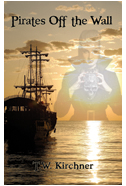 By T.W. Kirchner
For two years, twelve-year-old Tommy Klopt, his dad, Hoody, and his two brothers, Connor and Dillon, sailed the seas as Robin Hood-type pirates. After meeting, and almost getting killed, by a pirate from the 1600s turned evil ghost, François l'Olonnais, the family decides to head back to land and start over.
Life on land turns out badly for the family, and they set sail once again. It isn't long before l'Olonnais returns and brings a fellow ghost pirate, Captain Jacques Mignard with him. Mignard needs a mortal's help to retrieve his girlfriend, Cosette, and he heard Tommy can get the job done. Besides a time crunch, the biggest obstacle is a spiteful and tricky sea witch, Volange.
Sunday, August 25, 2013
Review by
SoTB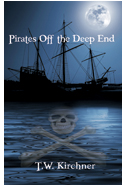 By T.W. Kirchner
Tommy Klopt is cunning and clever. Of course, he's a pirate. The twelve-year-old, along with his brothers, Connor and Dillon, begin a life at sea when their distraught father, Hoody, hits hard times. After a couple of years of smooth sailing as Robin Hood-type pirates, the family encounters a typhoon in the form of 400-year-old pirate ghost, François l'Olonnais. To force Tommy to complete a task, l'Olonnais captures Hoody. In a race against time to free him, the boys go up against real pirates and the FBI. But even if they can save their father, will l'Olonnais, the most evil pirate in history, really hold up his end of the bargain?
Wednesday, August 14, 2013
Review by
SoTB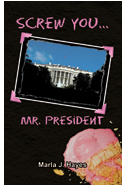 By Marla J. Hayes
The whole country thinks Meagan Masters is the luckiest teenager in the world – she's the President's daughter. But Meagan feels like she's given up her entire life for her dad's political ambitions…No more!
Meagan throws the ultimate tantrum – with her boyfriend at her side, she takes over the White House, only to end up having to defend the People's House when it's invaded. Those terrorists send in their number one weapon: the President's double …and Meagan has him in her sights.
Just one problem – he is the real President come to rescue Meagan, their relationship…and possibly the White House.
What will history books say about this night?
Saturday, July 6, 2013
Review by
SoTB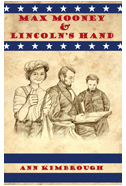 By: Ann Kimbrough
Never trust a future President!
Twelve-year-old Max Mooney is a sculpture's apprentice in the 1860's. His boss is working on a statue of Abraham Lincoln. When Max breaks one of the hands, he hides his mistake and decides to replace it before anyone notices. All he has to do is find Mr. Lincoln and re-cast his hand. Unfortunately, Max finds Mr. Lincoln on the day he's been elected to run for President. Half the city is at his house celebrating. The only way Max can privately talk to Lincoln is with the help of his young sons, Willie & Tad, but they may be harder to trust than a future President!