Archive for the 'Mystery & Thrillers' Category
Tuesday, January 17, 2017
Review by
ShortonTimeBooks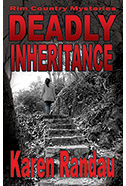 By: Karen Randau
A poisoned hotel clerk, a ruined Scotland honeymoon, and a hidden Viking burial site, Deadly Inheritance is the second book in the fast-paced Rim Country Mystery series.
Rita and Cliff are together again, this time on a long-awaited honeymoon in Scotland, where Cliff also plans to meet his grandfather for the first time. While the newlyweds check into the honeymoon suite at a luxurious Scottish hotel, the reception clerk dies after opening a note meant for Cliff. The action shifts into high gear when a mysterious woman uses the hotel clerk's car against Rita and Cliff.
The couple team up with Detective Ian MacDougal to discover who wants them dead and why. The search for answers takes them on a one-of-a-kind tour of Scotland.
Murder and a fistful of action combine to make Rita's Scottish honeymoon something she didn't envision!
Friday, June 24, 2016
Review by
SoTB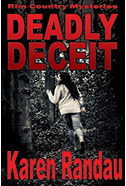 By: Karen Randau
A cocoon of naiveté shatters on Rita Warren's thirtieth wedding anniversary, when a terrorist murders her ex-Marine husband Jared and thirteen other movie goers.
Ensnarled in a cover-up that puts her in an assassin's crosshairs, Rita must unravel a web of lies and connections that date back to Jared's service in the Iraq war – before a mysterious kidnapper returns Rita's daughter Zoe one body part at a time.
This fast-paced thriller is one you won't want to put down from beginning to end.
Sunday, May 8, 2016
Review by
SoTB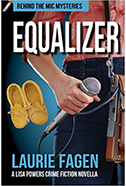 By: Laurie Fagen
Ambitious and impulsive.
Young radio reporter Lisa Powers has a nose for news, but sometimes makes reckless decisions when it comes to covering the crime beat.
Lisa reports on a shocking homicide that halts a white-collar money-laundering trial, but finds herself facing down the killer. She hunts for the murderer of a Jane Doe found in the desert decades ago that may have something to do with a Native American moccasin maker.
There's a smell of death in her "Haunted Hallows" mystery theatre podcast, leading to yet another mystery to be solved.
Equalizer is an action-packed novella and prequel to Laurie Fagen's debut crime fiction novel, Fade Out.