Archive for the 'Children's Books' Category
Friday, October 9, 2015
Review by
SoTB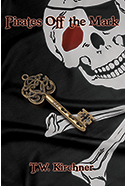 By:  T.W. Kirchner
Tommy Klopt and his family are starting fresh on the straight and narrow. With their new crew member, Cosette, who they saved from a sea witch, the Klopts are building a life in New England. The ever-present ghost pirate, Francois l'Olonnais, has grown quite a reputation in the ghostly realm since meeting the family. He's garnered respect for acquiring a new crew of mortals, the Klopt family, at his beck and call. Jealousy and greed have not escaped those serving their time in limbo, and unlike l'Olonnais, these pirates seek to control the Klopts to satisfy their desire for power and treasure. The crew of the Whispering Sands has a plan to release l'Olonnais' hold on the Klopts and mark the family for themselves.
Wednesday, September 30, 2015
Review by
SoTB
Lynx growled and Wolf howled. Rain Dancer was in trouble. The little Indian princess was lost deep in the woods.Grandmother always said that tears make her weak, so Rain Dancer stopped them with her breathing.
Instead, Wolf and Lynx taught Rain Dancer to: 'Listen with the eye that sees.' Closing her eyes, Rain Dancer sees Grandmother, drumming and calling to her with her Third Eye. With the help of the Great Creator, and Northern Lights, Rain Dancer 'sees' her way through the dark forest.
Lead astray by little wood spirits, she comes face to face with White Bear, who lets her go so she can learn about plants to save her people.
When Rain Dancer finds her way home, she goes to the Spirit World to learn more about her vision quest. Rain Dancer's Third Eye has shown her the future.
This fully illustrated picture book is perfect for children ages 4-8.
Sunday, August 9, 2015
Review by
SoTB
Little Star wants to shine his light brighter than all the stars in the sky, but he's just a baby star, and doesn't know how.
Father Sun and Mother Moon show Little Star the pretty planet Earth, where people look up to find the light of happiness.
Little Star looks down. Debbie is crying in her sandbox. Her sand castles are kicked apart, and she is sad.
Little Star tries his best to shine, but Debbie can't see him. He asks North Star, Orion and the Milky Way how they shine, but he must find his own way.
Soon, Little Star imagines he is dancing. Light bursts from all his points.
Debbie notices the twinkle, and soon she is dancing.
Together, the stars help Debbie change, and find her light of happiness.
'Little Star' is a transformational and magical story of 'happily ever after'.
This fully illustrated picture book is perfect for children ages 4-8.